If someone placed a bet on Benevento's win in their match with AC Milan they could have increased their funds by...30 times!!!
author: Pirlo submitted:
24 April 2018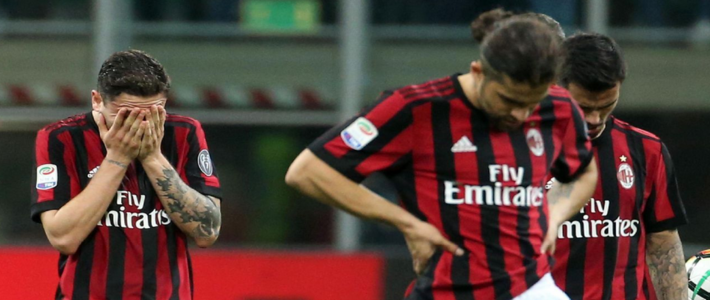 A shocking win of Benevento in the Italian Serie A. The newcomer that has been regarded as one of the weakest sides in the league, somehow managed to win with the great AC Milan at their home ground of San Siro. Hundreds of punters cried their hearts out after they lost their bets. But what about the lucky or smart punters that predicted this surprising result. Let's find out.
Surprising AC Milan loss at home with Benevento Calcio
Before the match between AC Milan and Benevento Calcio nothing seemed out of ordinary and most people predicted an easy win for the home team. Even though The Rossoneri did not show an excellent football in their last few games, they still were a clear favourite before the game that was to be played at their home stadium in Milan, especially because the match with Benevento seemed like a perfect opportunity to finally break the bad streak.
Before coming to San Siro, the newcomer of the Italian Serie A lost fifteen out of sixteen of their last away games and the first point the Benevento managed to get was against Sassuolo last week.  
Impossible but yet, somehow possible. Football once again showed us why it is the most beloved sport in the history, cherished by billions of people from all over the world. Despite being a clear underdog in this event, Benevento won the game at San Siro and we are sure that this destroyed few thousand betting slips. From the other hand, punter who correctly predicted the score of the game surely made a fortune on this surprising result.
Fortune for taking for correctly predicting the Benevento win
Bet365 online bookmaker offered 16.25 odds for the win of the away team of Benevento Calcio, while the win of AC Milan was offered for just 1.16. The draw or win of the away team (X2) option at this bookmaker was offered for 4.40. Furthermore, for more adventurous punters the bookmaker prepared few more interesting bets such as Asian Handicap AH (+2,5), for which Bet365 offered 1.60 or Asian Handicap (+1,5) with 2.40 odds.
But the real money was offered at BetVictor online bookmaker at which some punters could have made fortune on placing their money on Benevento leading at the end of the first half and overall winning the game at the last whistle with the odds of 19.00. What is more, punters who correctly predicted the score of 0:1 for Benevento could get even richer with the odds of 28.00. Placing the hundred euro for a Correct Score at this bookmaker You could have won almost 3000 euros!