Barcelona flops at Malaga
author: Adrian submitted:
14 April 2017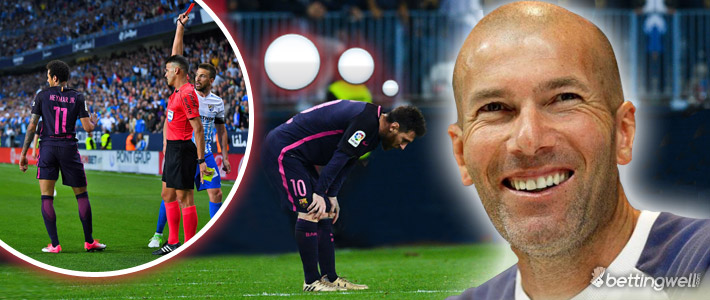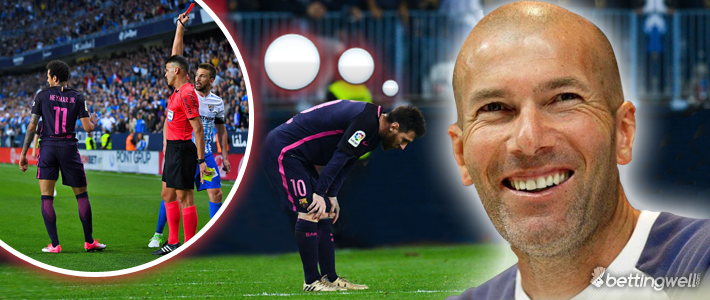 Malaga won 2:0 with Barcelona in one of this year's most surprising results. This surely cost many people a lot of money. We analyse the match and show the punters who lost their money on this bet, what went wrong for Barcelona as well as how much they could have won if only they backed Malaga instead of the Catalans.
Michel gave Madrid their dream title?
The Spanish newspapers jointly agreed that this weekend's games could be crucial for the national title race. Real Madrid drew with Atlético, but their former player saved them by destroying Barcelona.
Real Madrid legend Michel, who was part of the famous Quinta del Buitre and coached Madrid's B side Castilla, proved to be the saviour of his former club this weekend. The manager who previously also worked in Getafe, Sevilla, Olympiacos or Marseille, became new Malaga coach just a month ago, yet he took the struggling Andalusian team and prepared them for one of the hardest games of their season. And...he succeeded. Malaga won with Barcelona 2:0 and shocked both football fans and punters all over the world. With Real Madrid drawing with Atlético, Michel gave a big advantage to his former club in their title race.
 
What went wrong for Barcelona?
This video is hosted at playwire.com and is provided and hosted from a third party server. Bettingwell.com is not the owner of nor it is in any way responsible for this content.
For a few years now, the common opinion about the Spanish referees is that they are as blind as bats and make many terrible mistakes. This game was no different, although, the decision to show Neymar two yellow cards after brutal fouls and in result, his expulsion, was a correct one. Nevertheless, the referee made few mistakes that definitely cost some punters their coupons. The match analysis show, that there should have been more goals, which would mean won bets for the Over 2,5 goals or Both Teams to Score options. 
As for the performances from both sides. Michel's team simply had their day. They were clearly better than the Catalans and had more clear chances for goals. Once again, the possession game of Barcelona, and their famous tiki-taka, proved to be ineffective in contrast to the solid Malaga defence with Carlos Kameni who have saved few dangerous shots. Messi was invisible, frustrated Neymar brutally tackled his opponents and even though Suarez tried, he lacked precision.
The weakest part of the Catalan team was their defence, with Mathieu mistakes ending up as both Malaga goals. What is more, Ter Stegen was also not at his best. The final nail to their coffin, was their former young talent, Sandro Ramirez, who left Barcelona for the Andalusian side just this summer. Young spaniard proved Luis Enrique that he was wrong to let him go by scoring the first goal and helping in creation of the second one. 
 
It seemed like a sure bet
Barcelona used to be one of the most stable, predictable teams in the world. Now, it is completely different. They win with better teams, only to give away points in the games with weaker sides. The Malaga game is not the only example. Few weeks ago, Blaugrana lost 4:0 to PSG, only to cover that in amazing 6:1 remontada.
Nevertheless, the away game with Malaga seemed like a sure thing. Both Madrid teams drew with each other and the Catalans could decrease the distance to Los Blancos in the La Liga title race. The odds for the Barca's win were not that great (around 3/10), but were enough for quite certain accumulator bet. Furthermore, numerous professional websites and tipsters predicted that there would be Over 2,5 goals in a match option here (thus, relatively lower odds of about 2/5), as well as both to score (7/10). Barcelona's defence is terrible this season but they still have quality in the attack. As for Malaga, they have got refreshed by the arrival of Michel and had potential to score a goal. It all seemed like a perfect opportunity for an Over bet or BTS option.
Unfortunately for many punters, what seemed like a sure bet, ended up as a betting flop. Not only Barcelona did not have scored any goals, they did not have many clear goal-scoring opportunities at all. What is more, despite huge possession, Catalan players were not able to convert that into attacks and ended up losing two goals after Malaga counter-attacks. Barcelona just did not looked like themselves. This have to hurt punters who were sure of the Over 2,5 goals option, especially when the third goal was so close. 
It looks even worse for punters who placed an accumulator bets and considered Barcelona's win in this match a real banker. Imagine that all other selections from their combo bet were successful and what was supposed to be the banker of this Acca bet, ended up as a huge coupon destroyer. From the other hand, few brave people who placed their money on Malaga before the game, are all rich now, with odds of around 10/1 for the Andalusian team win. What is more, you could have more than doubled your money if you placed a live bet on Malaga's win, while they were winning 1:0!